A1. Visually Expressing Hybrid Environments
This project investigates the relationship between physical and hybrid environments of a user experience. In particular, the exploration of the Carnegie Museums in comparison to the hybrid platforms they make available, such as the CMOA mobile app, web platform and experiences beyond.

/ Environments Exploration
1. Pre-Assumptions, Concerns & Questions
Below is a list of considerations regarding the user's museum experience I created, before investing the physical and mobile experiences.
Will the order of physical and hybrid experience be the same?


- Entrance > Ticketing > Exhibition > Gift Store > Exit
Architecture of building may dictate order of events?


- Depending on where they enter, they may have different user experience.
What I think the museum app/site should highlight:
- Current/New Featured Works
- Special Events
- About Page/Museum Background
- Hours/Ticketing
- Museum Directions: How-to-get-there and Museum Map
- Social Media Resources
- Additional Resources e.g. Learning for kids, book recommendations, etc.
Does this experience

excite

me as a user?
I assume the curator/designer's intent is to...
1. spark user interest
2. provoke action to be taken (e.g. purchase a ticket, read exhibition information, etc.)
How

easy

 to use is this app/site?
- Accessibility
- Limit to certain age group? Wealth? Education level?
- Do I need this app? How will it add to/take away from my experience?
- Intended purpose v.s. reality/response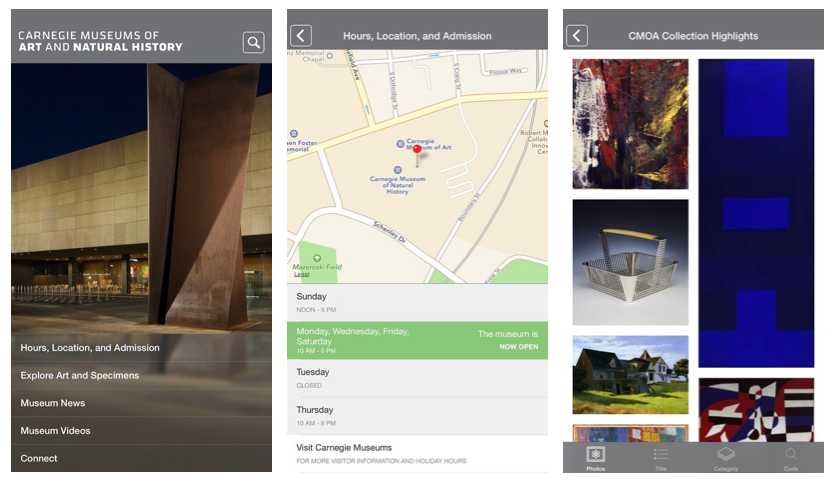 2. Hybrid Environment Exploration I: App Site Map & Observations
By creating a site map of the mobile app, I wanted to identify an area of interest/path that I found most problematic within the interaction. From there, I proceeded to sketch out the wireframes for the "Explore Art & Specimen" path.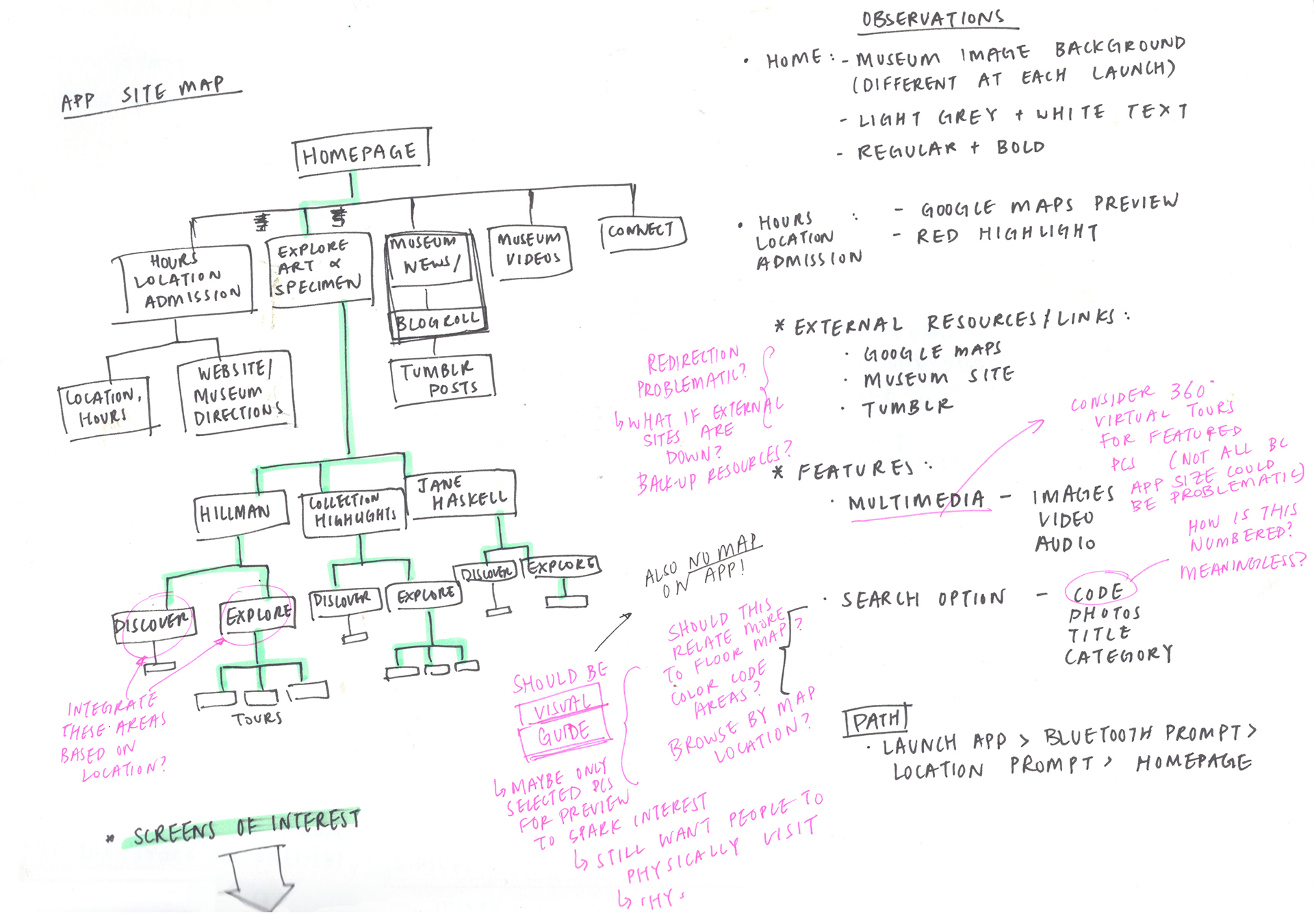 3. Hybrid Environment Exploration II: Low-Fidelity Wireframes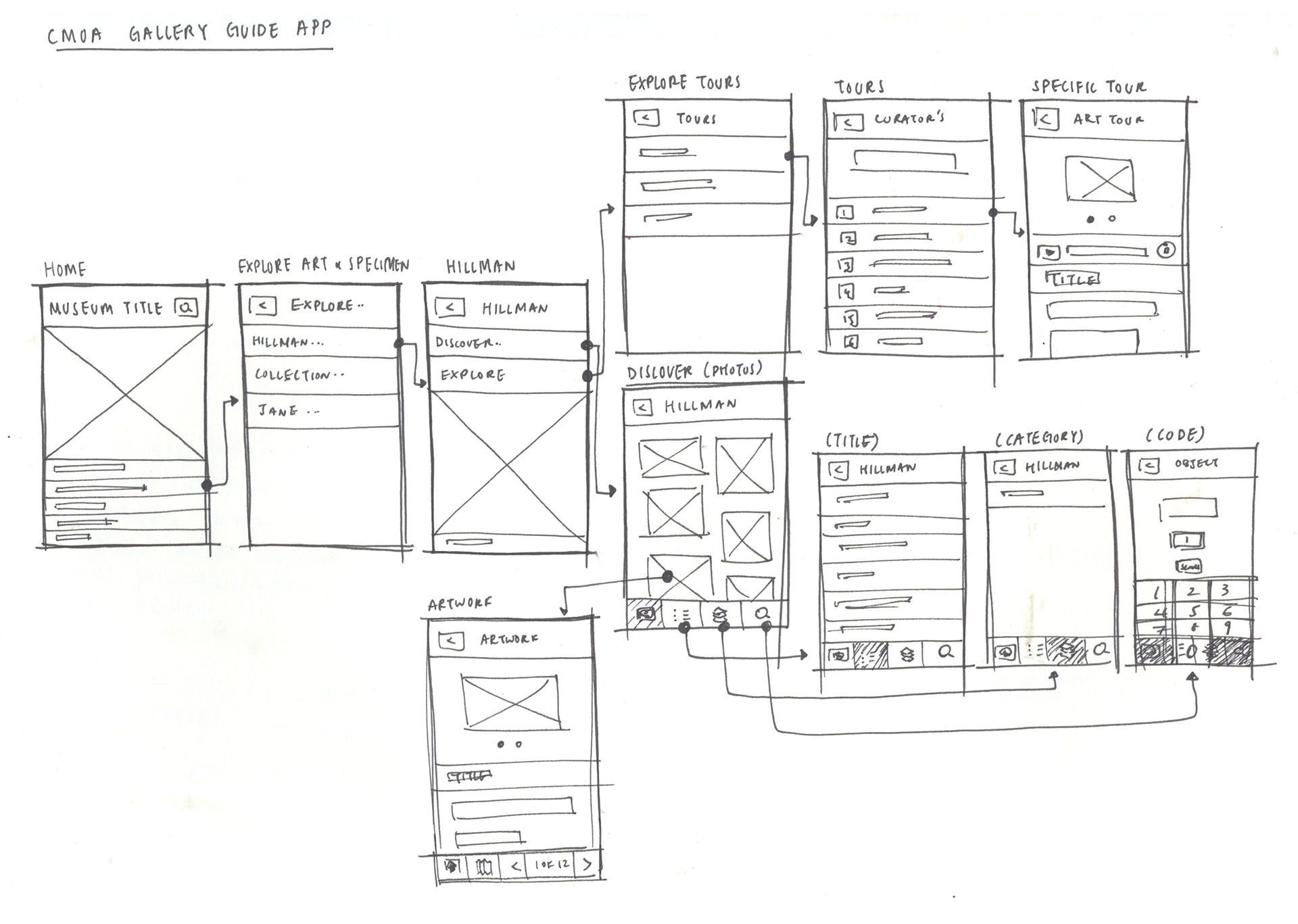 4. Physical Environment Exploration
After understanding the hybrid interaction created with the mobile app, I visited the physical space to compare the two experiences. Below are the order of events along with comments/thoughts in light grey.
2. "Lightime" exhibition on display (input), interacts with display (output).


Display captures user interest/desire to know more.
3. Notices CMOA cafe is under renovation, notices ticketing booth.
4. Ticketing booth: Communication with museum staff (input), ticket purchased (output).


Brochures, pamphlets, (navigation) maps are available.
5. Syncs mobile app to see whether it can give me any additional information.


App suggests it will provide tour assistance when user arrives at particular artworks (based on GPS). Location of artworks are described with gallery numbering system (e.g. ___ is in Gallery 10).
6. Enter stairs. Scaife Galleries and Heinz Galleries are presented from left to right respectively.


Confusing name and gallery numbering system.
7. Enter Scaife Galleries:
- Notices gallery numbering system e.g. "Gallery One".
- Artworks and description plates for each.
- Visitors observing and taking pictures, notes.
- Gallery map printed on a side pillar.


Map does not suggest any of highlighted exhibitions from app.


- Social media prompts suggested from interactive tablet area, printed go-to links under specific artworks.
- App-use prompt printed on a side pillar, instructs finding phone/tablet icon on pieces for audio tour.
App-use not prompted previously at entry

- reduced ease of use as prompt suggests for visitor to return to lobby if needed to borrow tablets.
8. Notices specific pieces with audio tour icons.


Users do not always have earphones! App also did not prompt by location. When attempted to locate artwork, it was confusing to know which gallery category to choose. Resulted in typing in object code from app homepage.
9. Browse aimlessly. Notices color coded tags. Audio Pieces also immediately calls for attention in quiet setting.


Red:

Prompts to additional information on CMOA blog


Yellow:

Tags artwork as well-recognized or given an award, etc.
10. Exit from stairs which faces art store (input). Prompts desire to leave with gifts, souvenir (output).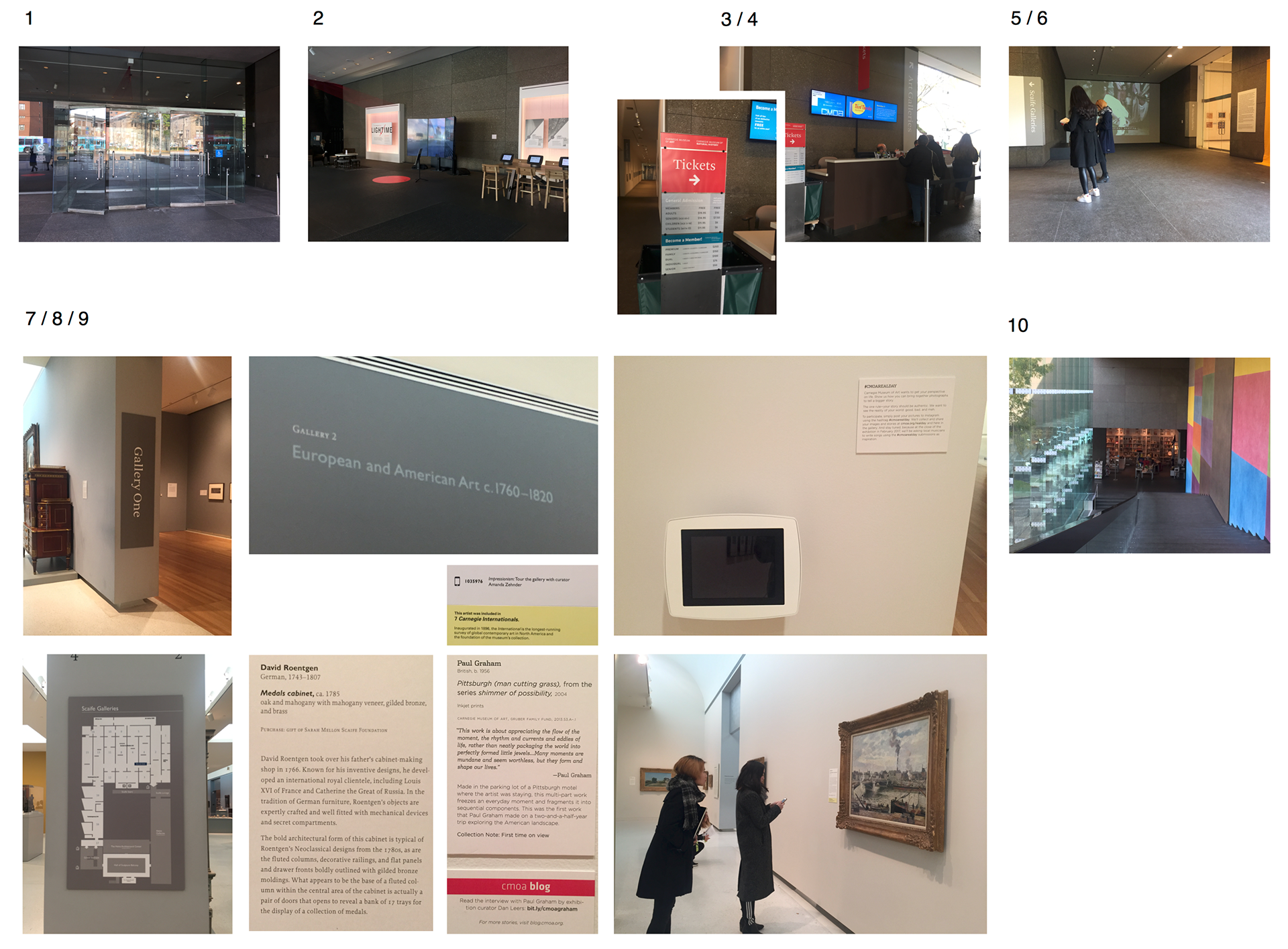 Should app be used simultaneously with the visit? I assume curators would not want visitors to be glued to their phones. However, the use of special signage and social media prompts imply otherwise.
5. Proposed Changes to Wireframes
Following the museum visit, I proposed changes to the original app wireframe in attempts to incorporate highlights of the physical experience into the mobile app. However during critique, I began to realize we were designing experiences beyond the existing interfaces.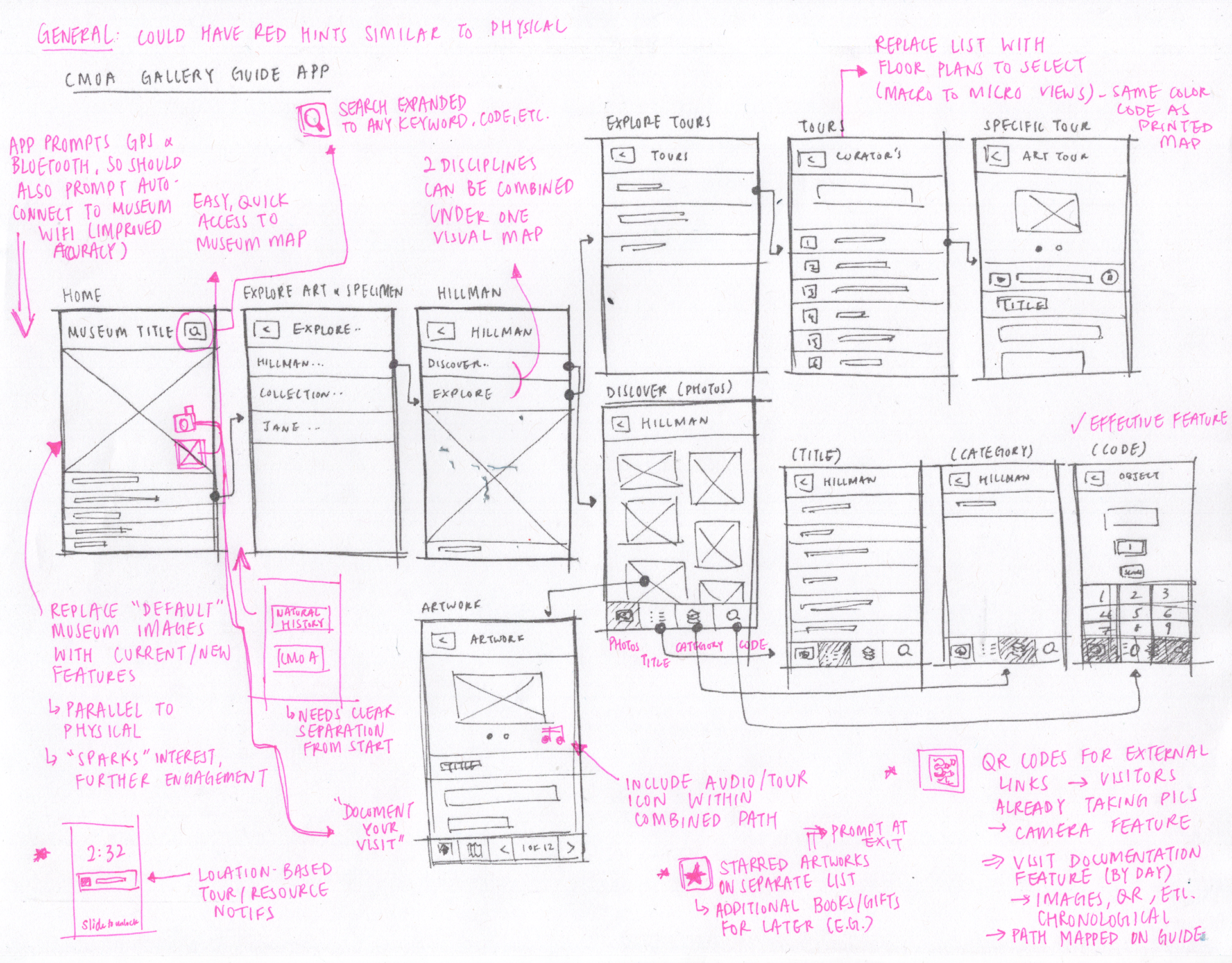 / Interaction Exploration
Straying away from the mobile app, I began exploring the scope of what I am trying to answer to and possible "solutions" to it, beyond looking at only the Carnegie Museum of Art. I thought about what the traditional essence of a museum entails and how this fits within our world where we constantly try to digitalize information.
2. Interaction Brainstorm
Below is the first draft of a storyboard for a filtered/customized experience, where users are able to cater their experience based on their tastes and preferences. For example, choosing experiences that are for children, for art before 1920s, for paintings. The goal of this interaction is for users to have a better, more personal experience, browsing the most relevant pieces to them within the time frame they are there.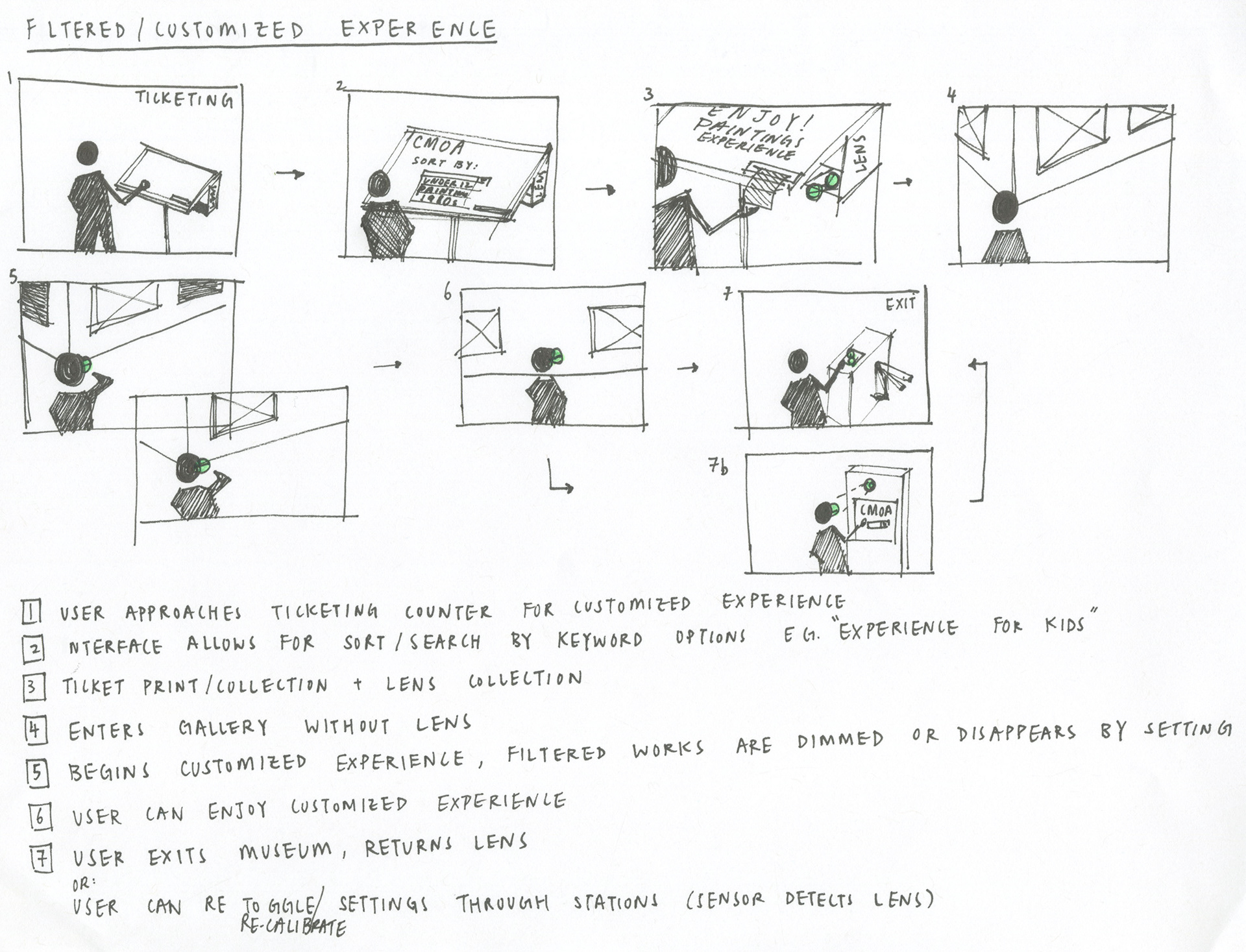 Here is a refined storyboard based on the feedback received in and outside of class. I decided to create it in high-fidelity to allow myself to better visualize my storyline within its realistic context. From the last storyboard, I decided to change my location from Carnegie Museum of Art to the Carnegie Museum of Natural History, as I felt that targeting one, larger scaled exhibition would be more cohesive with my storyline.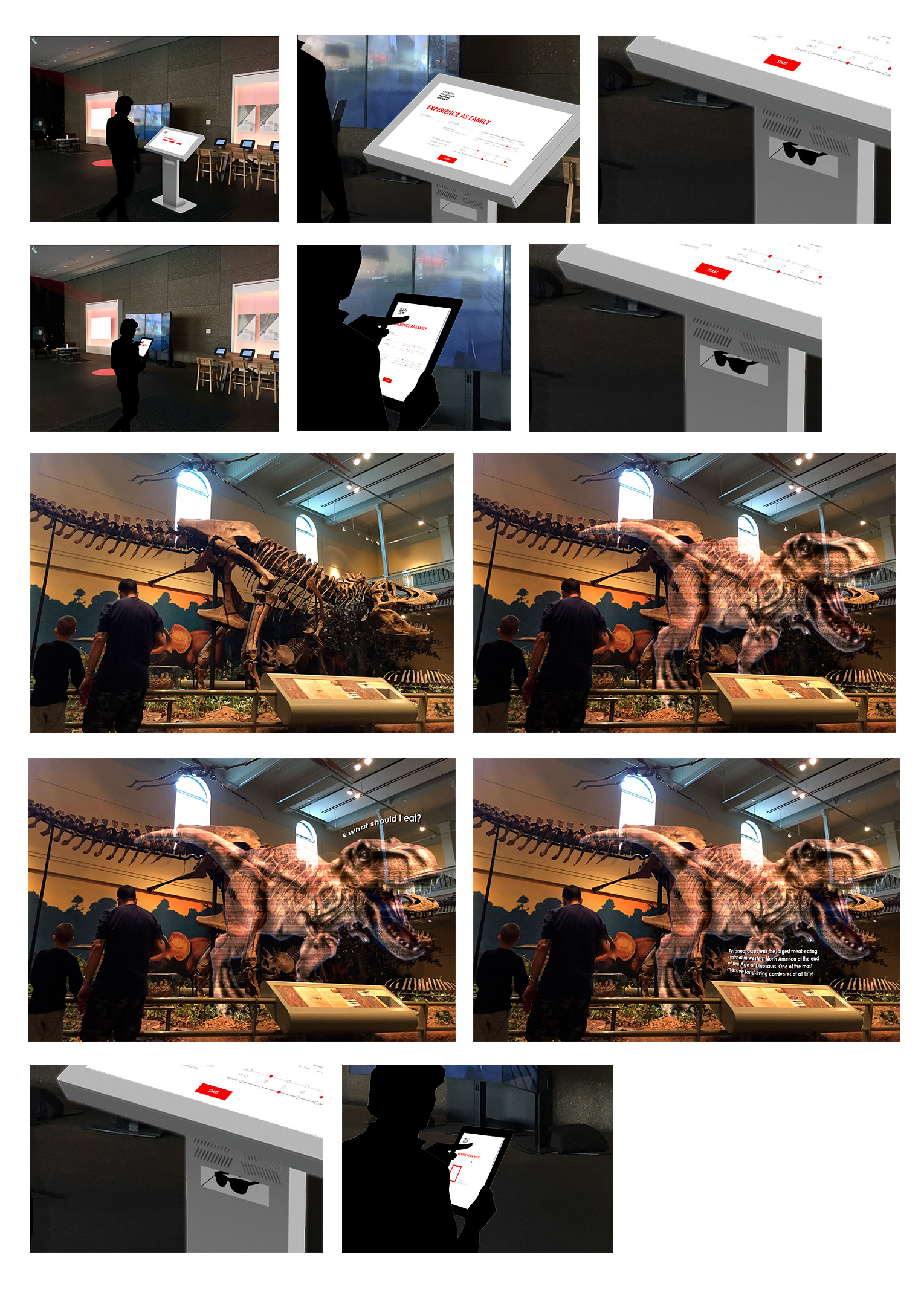 5. Preliminary Storyboard Interfaces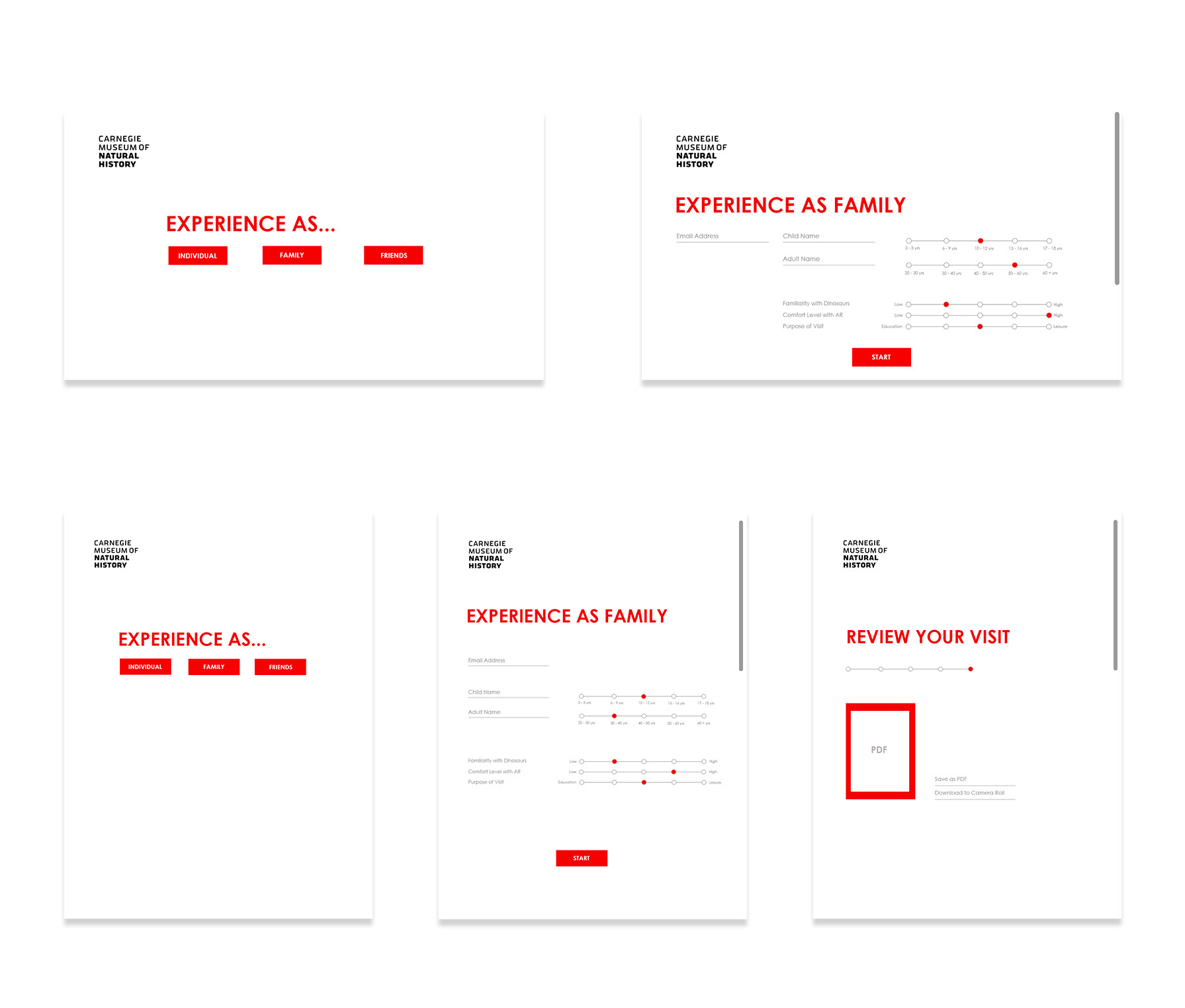 Attached below is the draft of my presentation during the last class critique before presentation day.